Browse Titles
A
B
C
D
E
F
G
H
I
J
K
L
M
N
O
P
Q
R
S
T
U
V
W
X
Y
Z
0
1
2
3
4
5
6
7
8
9
Other
[ MICHAEL JACKSON ]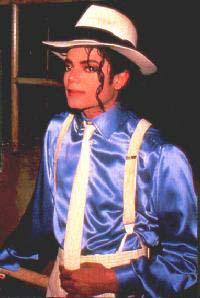 Michael Joseph Jackson was born to Joseph and Katherine Jackson in Gary, Indiana on August 29, 1958. He was the seventh of nine children. Michael's siblings include Maureen "Rebbie" Jackson, Sigmund "Jackie" Jackson, Toriano "Tito" Jackson, Jermaine Jackson, La Toya Jackson, Marlon Jackson, Steven "Randy" Jackson, and Janet Jackson.
Michael began his musical career at the age of 5 as the lead singer of the Jackson 5 who played local clubs and bars around Indiana and the Eastern USA. In 1968 the Jackson 5 were "discovered" by Bobby Taylor of the music group "The Vancouvers" and soon thereafter were signed to Motown Records. The Jackson 5 and their family moved to California were they soon became national stars when their first 4 singles, "ABC", "I Want You Back", "The Love You Save", and "I'll Be There" became #1 hits. With Motown Records the Jackson 5 made 14 albums, and Michael himself recorded 4 solo albums on the label, until the group left Motown Records in 1976 citing the need for artistic freedom.
The Jackson 5 left behind brother Jermaine and adopted Randy into their group and became simply, 'The Jacksons'. The Jacksons made 6 albums between the years of 1976 and 1984 and toured several times throughout North America, Europe and Asia. In 1977 Michael made his first film debut when he starred in 'The Wiz' as the Scarecrow opposite Diana Ross, and at this time met Quincy Jones whom he teamed up with as his producer for his first solo album on Epic Records titled, 'Off The Wall' in 1979. 'Off The Wall' was the first ever album to spawn a record breaking 4 #1 hit songs.
In 1982 Michael created the world's largest selling album of all time, 'Thriller'. This album produced 7 hit singles, breaking yet again more records, and went on to sell over 51 million copies worldwide to date. The music video for the hit song 'Billie Jean' enabled Michael to be the first black artist to have a video aired on the US music station, MTV. The 'Thriller' short film released on home video as 'The Making Of Michael Jackson's Thriller' became the world's largest selling home video. In 1983 Michael literally moonwalked into international superstardom when he performed the world famous dance step for the first time on the 'Motown 25' anniversary show. 1984 saw Michael break music history once again with being the first artist to win a record breaking 8 Grammy awards in one night; the award were for his 'Thriller' album and his work on the narrative for the 'ET Storybook'.
1985 saw the emergence of a international anthem with the release of the song 'We Are The World' which was written by Michael and Lionel Richie, and performed by 44 of the world's most popular stars (Diana Ross, Stevie Wonder, Ray Charles, Cyndi Lauper, etc.). "We Are The World" raised money for 'USA For Africa', a charity raising money and awareness for the starving people in Africa.
In 1986 Michael teamed up with George Lucas and Francis Ford Coppola for the 3-D movie Captain EO. The attraction was presented in the Disney theme parks until 1998. Captain Eo was the most expensive film ever made minute per minute, costing an estimated 30 million dollars. The film featured two new songs performed by Michael.
In 1987 Michael recorded his third solo album, titled 'Bad', and branched out on his first solo world tour, performing for sold out audiences at every concert. Following his world tour in 1988, Michael wrote his first autobiography discussing for the first time about his childhood, his career, and his cosmetic surgery. At the end of the 1980s Michael was named 'Artist Of The Decade' for his success off of his 'Thriller' and 'Bad' albums.
In 1991 Michael signed the largest ever recording contract with Sony Music and recorded his fourth solo album, 'Dangerous'. He branched out on a solo world tour for the album in 1992, which took him into countries that had never before been visited by a pop artist. Michael performed his first live concert to be telecast on international television with his concert from Bucharest, Romania. At this time Michael also founded his humanitarian organization the 'Heal the World Foundation' which is dedicated to improving the lives of children around the globe.
In 1994 Michael married for the first time, taking Lisa Marie Presley to be his wife in a private ceremony in the Dominican Republic on May 16th. Their marriage only held on for 19 months, with the relationship ending in divorce in 1996.
1995 saw Michael record a fifth solo album, titled 'HIStory', which contained 15 new songs in addition to an entire disc dedicated to his greatest hits. In 1996 Michael began his HIStory world tour which was held over a period of two years. During a break from touring on November 14 1996, Michael married Debbie Rowe and their first child "Prince" Michael Joseph Jackson Jr. was born on February 13, 1997. 1997 also saw the emergence of another creation by Michael; his album titled 'Blood On The Dance Floor'. This album contained remixes from the songs off of his HIStory album in addition to 5 new songs. Following his world tour, Michael and Debbie introduced a new child into the world on April 3, 1998 named Paris Michael Katherine Jackson. Michael and Debbie ended their marriage in October 1999.
The new millennium has seen Michael record another album, 'Invincible' will be released worldwide in September, 2001. Precceding this release, Michael will be celebrating his 30th anniversary as a solo artist with two concerts to be held in New York City, USA. Michael also plans to reunite with his brothers on a new album as the 'J5', as well as he plans to star in a film titled "The Nightmares Of Edgar Allen Poe" for which he will also co-produce and compose the music within the next year.
Michael's career has spanned over four decades, earning him countless awards and breaking and creating countless records. He has sold well over 200 million albums around the globe and performed on every continent. He has lead the world and created the precedent that all artists and directors go by when creating music videos and continues to guide the entertainment industry with his innovative albums, live performances, and short films.
Michael's influential and tireless humanitarian efforts have raised hundreds of millions of dollars for people around the globe with an immeasurable influence. And this is only the beginning....