Browse Titles
A
B
C
D
E
F
G
H
I
J
K
L
M
N
O
P
Q
R
S
T
U
V
W
X
Y
Z
0
1
2
3
4
5
6
7
8
9
Other
WELCOME MJ FANS TO MY MIKE SITE!!! LINKS TO OTHER MICHAEL JACKSON SITES!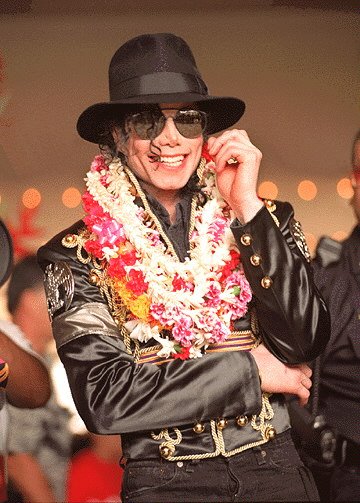 WE LUV MICHAEL!!!!!!



HEY ALL YOU MJ FANS OUT THERE, WELCOME! ON THIS WEBSITE, YOU WILL FIND THREE LINKS TO THREE GREAT WEBSITES, ALBUMS AND LOTS MORE! ENJOY YOURSELVES MJ FANS!!! ABOUT ME Hi My name is Karen Byers, I am age 11, and I live in the UAE (United Arab Emirates). It is a hot country here, but I am happy cause I have loads of friends and we ALWAYS hang out together. I am a huge fan of Michael Jackson, I have loads of pics and albums. I listen to his music all the time. I think he IS a true King Of Pop. HEY if you wanna become internet pen pals with me just email me (my email address is at the bottom of the page. FACT FILE NAME: Michael Joseph Jackson MICK NAMES: MJ, MJJ, Mike, Mikey, AGE: 43 BIRTHDAY: August, 29th WEIGHT: 65 kg HEIGHT: 178 cms tall LIKES: Disneyland, red and black, carrot juice and orange juice ADDRESS: Michael Jackson, Neverland Valley Ranch, c/o Postmaster, Figueroa Mountain Road, Snato Ynez Valley, Los Olivos, CA,93441, USA OCCUPATIONS: singer, dancer, song writer, poet, composer, businessman, charitable figure. WIVES: Lisa Marie Presley, Debbie Rowe KIDS: Prince Michael Jackson Jr. - mother - Debbie Rowe Paris Michael Katherine Jackson - mother - Debbie Rowe TEN REASONS WHY WE LOVE MICHAEL JACKSON 1. He's a GREAT entertainer 2. He's got AMAZING talent 3. He's a FANTASTIC dancer 4. He records COOL songs 5. He's got LOADS of fans (how can anyone not like him) 6. He cares for the WORLD 7. He CARES for the poor children and people 8. He NEVER gives up 9. He CHANGED people's lives 10. He's every michael jackson fan's HERO SIX COOL ALBUMS 1. HIStory 4. Dangerous 2. Thriller 5. Bad 3. Blood on the Dance Floor 6. INVINCIBLE (his new album) THREE BITS OF NEWS Michael Jackson's new album 'INVINCIBlE' is gonna be released on the 29th of October, so be ready to go to a music store on that day! It has the following tracks - Invincible, You rock my world, Speechless, Unbreakable, Heartbreaker, Break of Dawn, Heaven can wait, Butterflies, 2000 Watts, Cry, Shout, The lost children, Don't walk away, Privacy You rock my world has reached number #10 on the Billboard Hot 100 Singles Chart Michael Jackson celebrated his 30 years as a solo artist. On September 7th 2001 at Madisin Square Garden. If you were there you are REALLY lucky. Even Usher, Mya, Whitney Houston, Destinys Child, Shaggy, Eminem,Chris Tucker were there. WELL THAT'S ABOUT IT THANK-YOU FOR CHECKING OUT MY WEBSITE.